Life Is Not Fair But You Can Do Something About It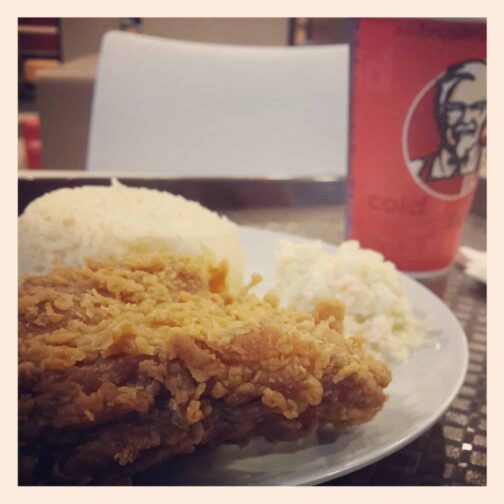 Today started just like a usual day, where I got up late and went to work. Planned to go gym but ended up KFC now, because of forgotten to bring sport shoes. *Facepalm
I ordered a Set B Dinner (RM6.85), as shown in the picture. The fried chicken is slightly bigger than previous time and this incident inspired me to write about this: Life Isn't Fair – It Doesn't Care Who Are You! Just like the other successful entrepreneurs & authors said:

  - Life is not fair; get used to it – Bill Gates
  - Life isn't fair; it never will be. Get over it and strive on – Robert Kiyosaki
  - Life is never fair, and perhaps it is a good thing for most of us that it is not – Oscar Wilde
Life Is Not Fair And This Is One Of The Natural Law
Take the dinner as example, we all pay the same price but we might be having more or less meat than others. It is universal. Some born into rich families, some aren't. Some are complete and healthy, but some come to this world with defects. Some born as a boy but wanted to be a girl.
Good sharing from HuffingTonPost on 9 reasons why life isn't fair:
1. Romantic life is not fair – You rarely (almost never) marry the love of your life. Someone else gets the girl (or guy) of your dreams.
2. Beauty brings favor – Looking for parity in the aesthetic realm is a pipe-dream.
3. Your best friend will privilege you over others.
4. Intelligence seems unfairly distributed
5. Shallow people seem to get laid more regularly
6. Celebrities haven't really done much
7. Nepotism rules everything – Yes, it seems unfair when someone hires their friend or relative over a stranger, but ?
8. Arrogant people usually triumph – Loud and overconfident people win out over shy people, even when shy people are right
9. Your family loves you even when you don't "deserve" it
Just Do Something To Make It Better!
Pretend that life should be fair and then get upset when it isn't. What for? You can't control anyone or life, but you can control yourself, your mindset and actions. Just accept it, be optimistic and try to do something to make it better. Life doesn't know you, so just choose either one:
1. Keep complaining others got better cards than you
2. Concentrate on playing the cards and make it the best out of the worst and possibly win!
It is all about your mindset toward fairness. Appreciate what you have now, before life turns it to what you had (and if 当拥有已经是失去,就勇敢的放弃) . Remember what you deserve rather than chasing pavements – don't expect & don't greedy. Learn from yesterday, live for today and hope for tomorrow – we can't change the past, so don't ruin today by worrying about the future. As long as you willing to, anything is always simple – this apply to fairness too!
Don't compare yourself to others – find out what you want in your life.
  "I want enjoying my day without working & I want a lots of money!"
Omg, they both seems won't happen at the same time. Even it is, it won't last. Just like what I always said, Life is about give and take. Decide, don't look back and be responsible on life – there is no right or wrong after all. Don't get envy when people have lots of time going travel, while you are working damn hard to buy a house or vice versa. Eternity is not a distance but a decision. Life doesn't owe you anything, just time and effort not there yet.
I know that sometimes we are the only one who knows the pain and burden deep inside the heart and it can't be express through words or saying. But, learn to see through and appreciate. Do believe in God. Treat everyone with love. Believe in miracle, even it is small glimmer of hope, but miracle does exist.
Tell me how you think about this! =)
# Photo credit to ignitefaith.org