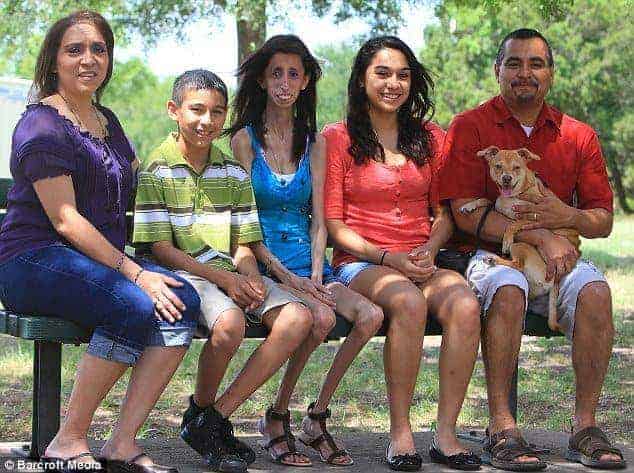 She Is Actually Awesome & Beautiful – Lizzie Velásquez
You may or may not have heard of the World Ugliest Woman – Lizzie Velásquez, a girl that quite popular recently. There was a video labeled "The World's Ugliest Woman", 8 seconds long and was just a picture of her face – I can't find out the video and I think it has been removed as violation to YouTube Policy – bully.
Was spending time this holiday to read about her and her motivational speeches. Here is her intro:
   Elizabeth Ann "Lizzie" Velásquez (born 13 March 1989) is an American woman whose has a
   extremely rare undiagnosed adipose tissue condition. She is one of the three known cases in the
   world suffering this syndrome. She has 0% body fat, weighs 60 pounds (27kg), needs to eat every
   15 minutes to keep her 60-pound frame and completely blind in one eye (age 4) and has limited
   vision in the other.
   Her daily energy intake of about 5,000 kilocalories compares with the US average of 3,770. She
   has a weak immune system. Involved medical researchers at the University of Texas Southwestern
   Medical Center have expressed the opinion that it may be a form of neonatal progeroid syndrome,
   which at least has spared her healthy bones, organs, and teeth. It is thought she should be able
   to conceive naturally without passing the condition to her children.
I wasn't really know about her until I saw this video. Listen to Lizzie Velásquez, it is truly inspiring.

As I read from other website, the 8 seconds video reached more than 4 million hits with some comments suggesting she to put a gun to her head and kill herself. Instead of letting this drag her down, she decided to deal with them in a different way. She even set 4 goals for herself, which are graduating from college, publishing a book, become motivational speaker and have a family and career of her own. She already accomplished 3 out of four goals. One of the book is titled "Be Beautiful, Be You".
Lizzie Velásquez: What Defines You?
"It's not easy," she said on the show. "They do hurt, but their judgments of me isn't who I am, and I'm not going to let those things define me. So, I have to remind myself that these people are just going to keep talking about me but it's not going to hold me back."
"I want you think and ask yourself this in your head right now. What defines you? Who are you? Is it where you come from? Is it your background? Is it your friends? What is it? What defines who you are as a person?"
"You are the person in the front seat of your car. You are the one who decides whether your car goes down a bad path or a good path. You are the one that decides what defines you."
"I used their negativity to light my fire to keep going, use that, use that, use that negativity that you have in your life to make yourself better, because I guarantee you, guarantee you, you will win."
And I like the way she intro herself, ""Hi, I'm Lizzie Velásquez – maybe you should stop staring and start learning". For me, she shines with an inner light and she is awesome indeed. May god bless you and wish you the best! Life is not fair, but you can do something about it, just like Lizzie Velásquez
More about her @
Website: http://www.aboutlizzie.com/
Personal Facebook: https://www.facebook.com/aboutlizzie
Facebook Fan Page: https://www.facebook.com/LizzieVelasquez
Reference:
1. http://houston.cbslocal.com/2012/09/21/woman-eats-every-15-minutes-to-keep-up-60-pound-frame/
2. http://www.theblaze.com/stories/2012/09/14/meet-the-23-year-old-painfully-dubbed-ugliest-woman-in-the-world-and-see-what-shes-doing-to-fight-cyberbullies/
3. http://en.wikipedia.org/wiki/Lizzie_Vel%C3%A1squez
4. http://www.ibtimes.com/lizzie-velasquez-former-worlds-ugliest-woman-becomes-motivational-speaker-video-1530714
5. http://www.upworthy.com/hear-the-powerful-way-the-worlds-ugliest-woman-beat-her-bullies
6. http://www.dailymail.co.uk/news/article-2202512/Worlds-ugliest-woman-Lizzie-Velasquez-gives-courageous-interview.html
Photo credit to www.telecinco.es & www.dailymail.co.uk