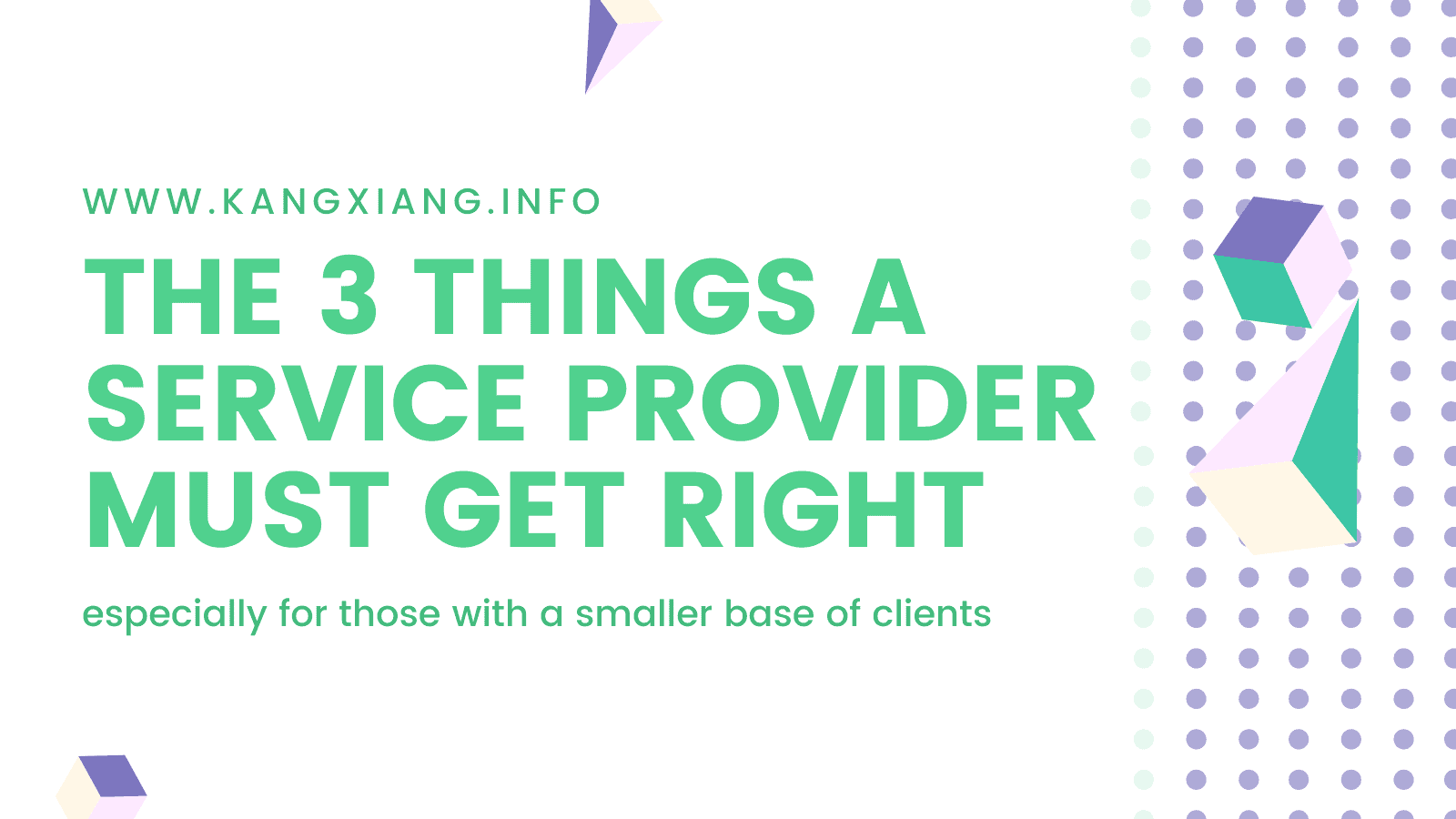 The 3 Things a Service Business Must Get Right
If you are a professional services provider, this video is for you. A service business is one that offers an intangible product (services). Example of service based business such as lawyers, consultant, architects, interior designer, accountants, financial adviser, engineers, corporate trainer, insurance agents, property agent, mechanic or plumber.
3 things for running a successful service based business:
1st. You will definitely need a website. Yeah, Facebook page is free. But in corporate world, a website is an image. Website is your business credibility. Nowadays people asked for your website link more than your office location. Everything online. What if you don't have a website? It would sounds like you are not serious, or worst maybe you are testing the market. How do you think the conversion rate for a professional service based business?
2nd. Many people miss-use Facebook page and they are posting a lots of "sales content" which telling the market how best is their services or how they can help you. Social media is a place of people. Would you first meet a person and willing to give him your contacts in order to receive latest promotion. If you are in needs, yes, it might works. But why people use social media? Majority of them are looking social news, friends stories and get connected. You want to build long term profitable relationship with prospect? Learn to how to contribute and give values in social media. Just like this marketing posting and video. You learn something and perhaps follow our social media page and website for more useful, educational content. That is a connection.
3rd. Many traditional service business owners are not focusing on search engine. Let says, when you are looking for website designer or a car mechanic, if you know somebody then perhaps you login to Facebook and ask your friend or WhatsApp. High chances now, people are using Google and search for related keywords. They can compare the alternatives and pricing before making a decision. There is a need behind every search. So, the mindset is how to get in front of customers when they are looking for your services.
For example, when you search for website design Malaysia, etc., most of the time you will see us on top 3 ranking. That is how we have thousands of traffic per month and a million dollar digital marketing agency. There could be thousands of people looking for your services online.
So, here is the conclusion for your service based business:
Create a fast loading, SEO optimized website. Learn how to use website to convert traffic into leads. Headline, content and portfolios are important factors for service based business website.
Use social media to create awareness and implement re-targeting strategy.
Look into search engine marketing. Use search engine optimization to boost organic ranking for long term benefits. Use google advertising for competitive keywords or to maximize visibility. (Check out this case studies for interior designer).
My name is Kang Xiang, we are a digital marketing agency in Malaysia specialize in helping traditional businesses to build the fundamental to succeed online. For more information about how to start an online business, we got an 35-pages free e-book for you. It is simple and easy to understand for newbie to digital world. Good luck!