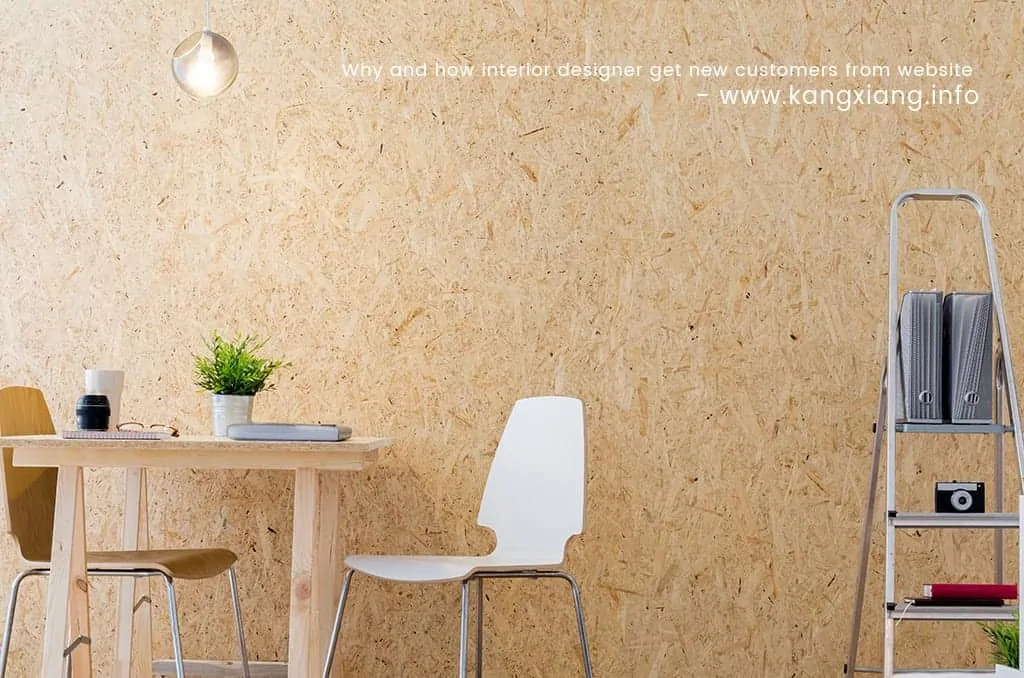 Why And How Interior Designer Get Sales From Google Optimized Website
For every people I met, I always emphasize that don't just make your website an online brochure, it can actually generate sales and profits. Like my website kangxiang.info, we have estimated around 10,000 traffics a year, 350+ enquiries (emails and direct calling) and we are building 30-50 websites, managing 15 websites (Oct 2018) Google marketing and Facebook. View 2017 & 2018 portfolios – 90% of our new customers are from the Google and Facebook marketing and 10% are through referral (mouth of words). Below are why interior designer should create a Google optimized websites, rather than hiring a sales executive to cold calling, door to door strategy.
1. Determine the market size, learn how user think.
Before you launch any business or presenting marketing ideas to your boss, you will do some research about the statistics, competitors pricing, products quality, location and etc right? But I see many of enquiries are not coming with the mindset. For most of the people, the reason to build a website because I need it. No website = no serious in business, no branding and etc.
Depending on the people you are dealing with, if talking to a salesman, they will probably present you their company profile, how big the company is, the portfolios with hundreds of logos and etc. If you are dealing with web developers, they will talk to you about the web designs and the features in it (mobile responsive, user-friendly, content management system and etc)
But that is not how it works in our team. Taking interior design services as the example, first, we want you to know how many people are looking for your services online, either Google or Facebook.
There are 41,780 searches for total 532 keyword ideas for interior design services & those looking for interior designer in Kuala Lumpur and Selangor Area. Out of the 42k searches, 27,605 searches are from mobile devices. These data provided by Google.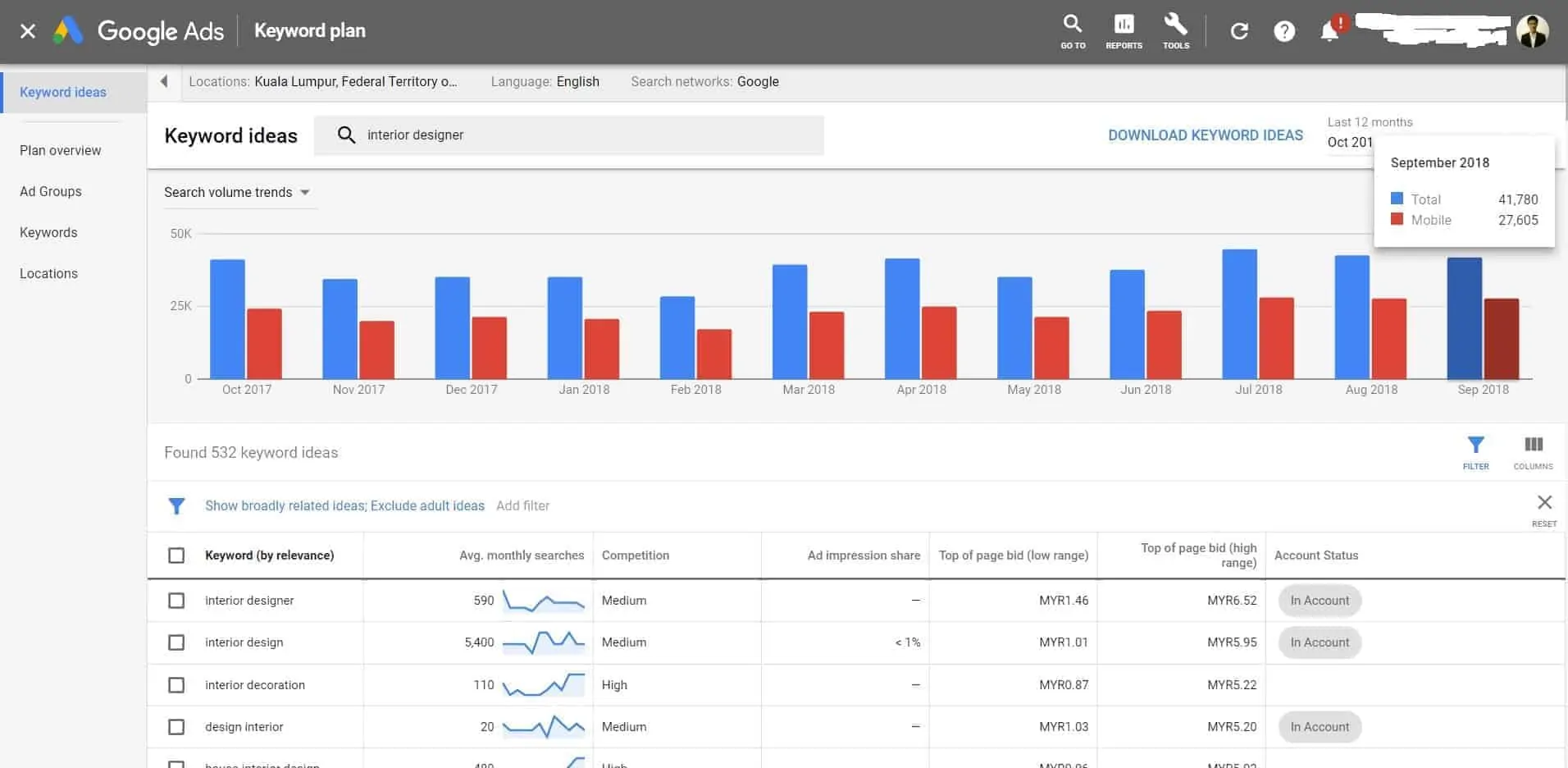 8,120 searches in Penang and 6,060 searches in Johor.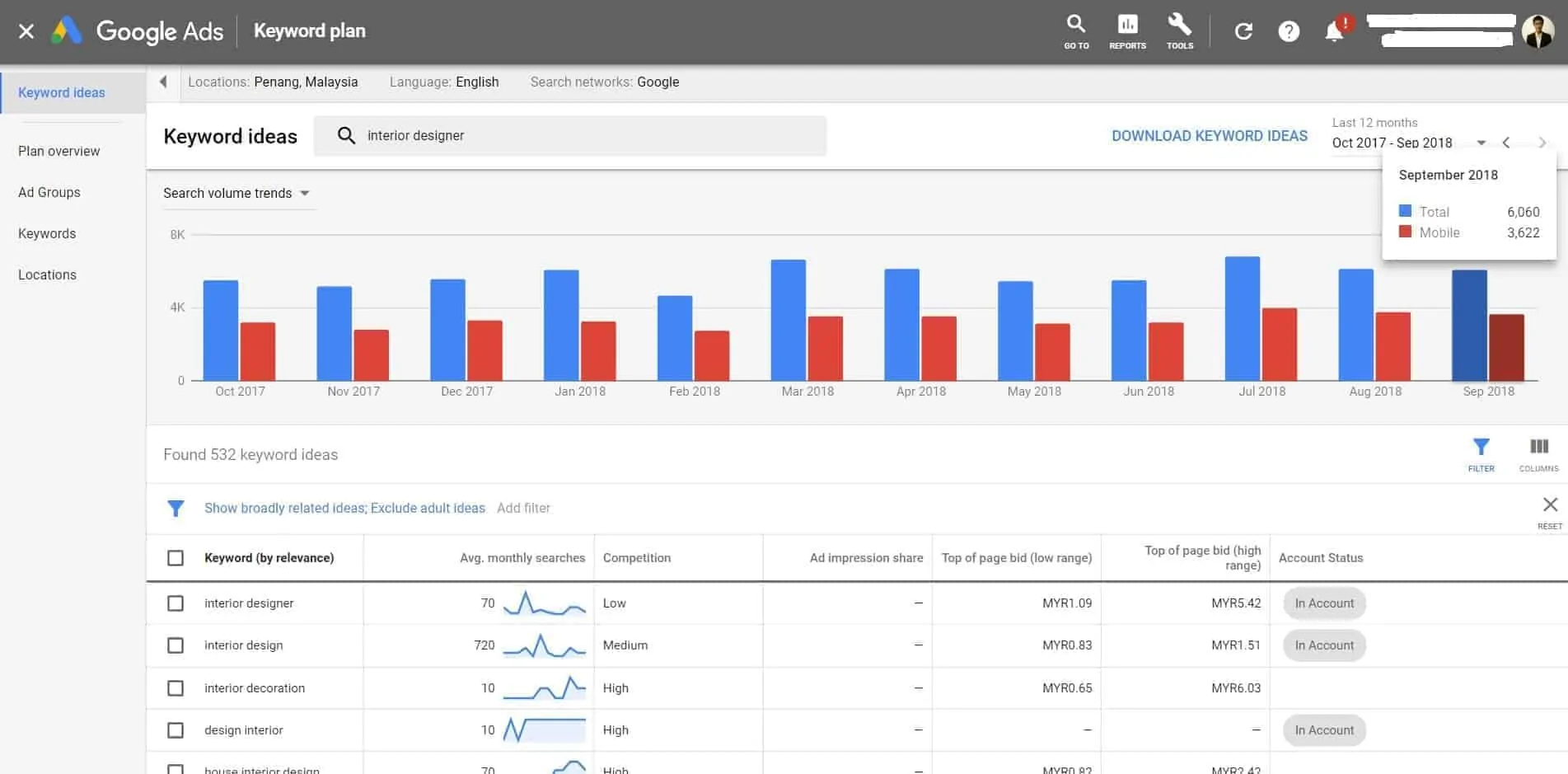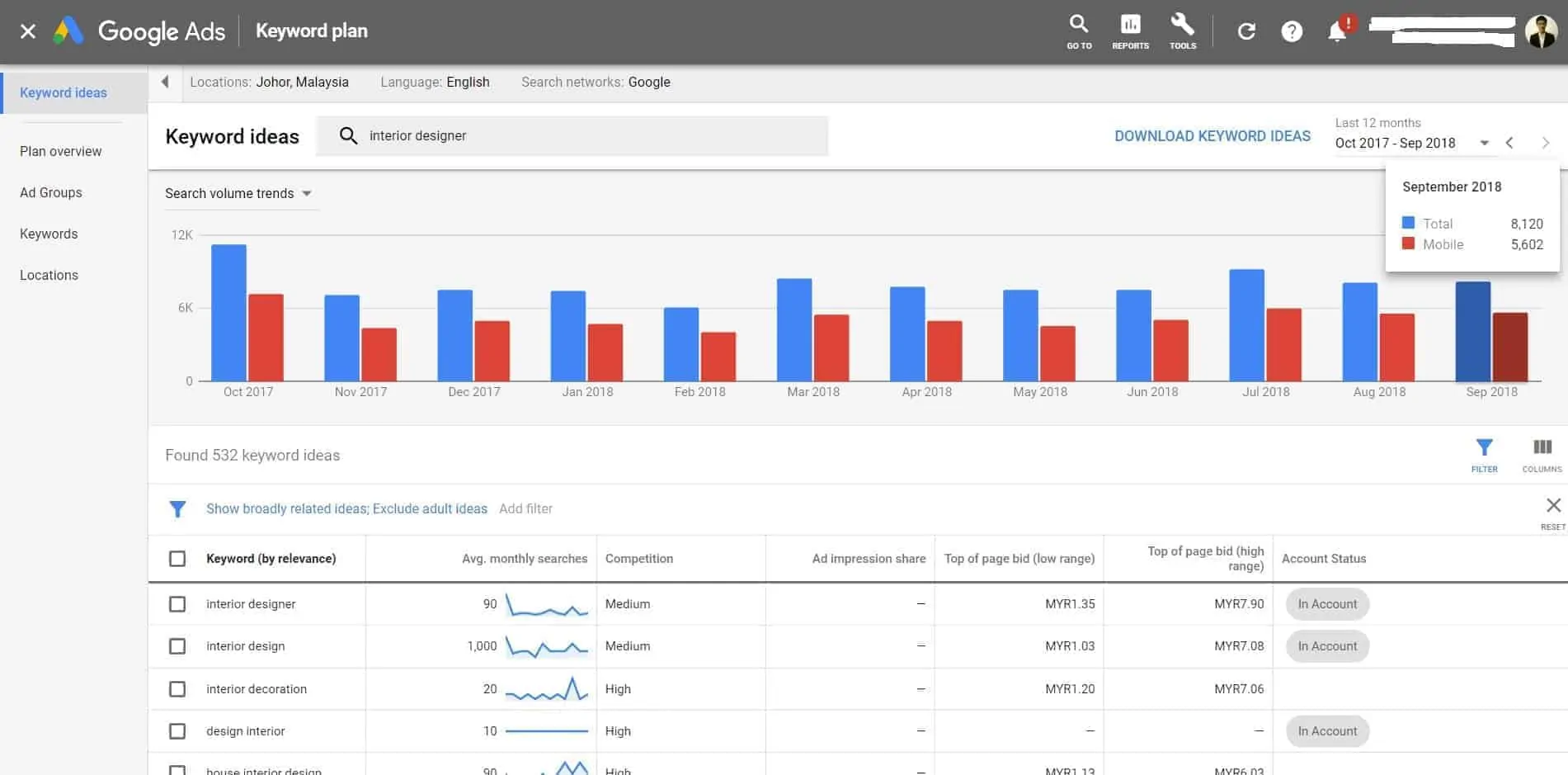 However, not all the searches are useful for a company, especially when you have limited budgets for web improvements, SEO and Google ads. When it comes to traditional print media, newspaper and TV ads, the more the better. However for online advertising, the niche the better.
Therefore, we will filter the 41,780 searches in KL Selangor and remove those searches are looking for keywords related to jobs and education (jobs,vacancy, internship, career, salary, courses, program, tutorials, colleges, etc), or those who are looking for ideas, tutorials, free sharing and etc.
2. Build A Website Along With Those Interior Designer Related Keywords
In my lifetime, I would never search for keywords like Interior Designer, Interior Design Company and related keywords, unless I have a NEED. That's why business services & high values consumer products need to focus on developing websites that are Google optimized.
Some of the web developers or content writer, they like to propose the title for Home Page:
"Welcome to My Site Sdn Bhd" or "Hello, My Name is Kang Xiang".
I am not saying this is wrong, but the concept behind it is different. When you put these titles (H1 and H2 tags), it don't help Google understand your website better. Google crawl websites using Googlebot and add your websites under Google index, this is how it works in details. In short, Google learn about your websites through the title tags, image alt tag, meta descriptions, internal linking and more. Putting catchy titles is useful when you are expecting more of traffics are from social media and advertising, where people engaged with your products way before they found you on Google. That's work if you comes from big corporate, high advertising budget website like one of our ecommerce site which having 0 seo effort, but getting 2,000 organic traffics (We advertised Rm30-40,000 ads a year on that, so a lot of people are looking for the brands name, products name and found us on Google).
If you are a SME (small to medium enterprise) like how i started my business, a quality traffics volume range of 200-1000 per month from Google organic results is really crucial and most of the time, more than enough to generate good profits.  Therefore the website you built has to be comply with Google requirements so that you have higher ranking. A study shown : No. 1 Position in Google Gets 33% of Search Traffic.
Instead of the Welcome to My Site Sdn Bhd, do put your title tag as example,
Interior Design Company / Interior Designer Based in KL Since 2008
Descriptions, content and keywords density are important in the earlier dates. Service providers like us used to stuff in keywords so that most of the keywords are there and it is relevant to Google search results. However, thing get evolving and now the priority is more than stuffing keywords, instead the website developer shall distribute the keywords evenly and focus on the users. Be reminded, Google is a platform where it provides information to users, so Google would like people to get what they are searching online.
More about SEO starter Guide by Official Site – Google
To reach more users and faster result, do advertise on Google. Please dont hire those who sell you ideas and feelings,m. Talk to service providers about data,  statistics and detailed strategy. Specific keywords and time frame for optimization. People who searched online for interior designer services having a need, so if your packages and offering services are good to them, those serious buyers will contact you immediately to get quotation/ consultation or within days. There is misconception in the market that you have to advertise for months in order to get enquiries, for me, it is NOT!
3. Integrate with Useful Software
Apart of doing website improvements and SEO optimization, it is important for you to integrate software such as SEO software, Google Analytics and Google Webmasters. Mostly service providers will do the integration for SEO and Analytics, seldom I see those integrate Google Webmasters (Search Console).
SEO software tell you about the onsite optimization that needed to be done. Example, how many keywords in a page, internal linking, outbound link, title tag, meta tags, images and etc.
Analytics tell you about the performance of website, where the audiences from, which pages they stay most, how long they stay and most importantly, how they find your websites – through which channels.
Webmasters tell about the website crawls, errors in websites and most importantly what keywords people found you on Google. What is your ranking for sepcific keywords.
People used to say, facts tell, stories sells. But please, as a businessman, you need to digest things from both ways. Fact is fact.
The latest of my client who spent nearly Rm20k in 6 months, changed 2 agencies (dealing with salesman) and get nothing – 0 enquiries, 0 sales. Even they did advertise thousands ringgits with those agencies. And guess what, when they met other agency, what would happen?
"Your website corporate feel is not there, content need to rewrite and etc. Your business is too niche (unpopular)." – B*ll Sh*T Agency
All is just about selling you the IDEAS, but not direct to the point. And of course, revamping website is another profits.
But do make a stand and asked how would you say my website is not corporate enough. What specific content or statistics are showing that? Why people are leaving my websites and how fast they leave? With our services, none of the revamping works is needed, be it copywriting or web structure. We did some minor changes like making the contact number more viable. In 19 days, they get 6-10 enquiries, 250+ new Facebook pages fan likes and 3 done deal – Car Repairs. How? Simply target the keywords user search online. Business is all about supply and demand.
4. Handle enquiries immediately, talks about benefits (not features) and close sales. Sale solve all the problem
Would want to share more of how to build a better, google optimized websites but I gotta go. Will fly back to Malaysia after 5 days working in Bangkok. – 3 / 11 / 2018 (Saturday). If you happen to have friends and family who are interior designer, i am glad if you can share our know-how knowledge to them. Those linking to Google sites in the content are very useful, at least build the fundamental knowledge first.